The International Valve Design Challenge [IVDC] will give you all the opportunity to use the power of our upfront CFD platform and come up with innovative and improved high-performance valve designs.
The IVDC comes with a unique engineering design problem for all you keen designers.
We all know that the valve industry is a rapidly growing and blooming market. As most industries are expecting higher efficiency from their installed systems, innovative solutions seem to be the only way forward. As a result, newer and improved valve designs are now making their way into the mainstream production lines.
We have come to you with a similar challenge wherein you will get the opportunity to modify and design an improved Double Offset Butterfly valve. These designs will be judged by an expert jury based on their flow-performance, structural-strength, and weight-optimization.
The winners and best performers will be awarded and receive amazing prizes. Also, all the participants will get global recognition for their innovative work through our social media outlets.
We encourage all you bright valve designers, CAD engineers and innovators to participate and take up this challenge.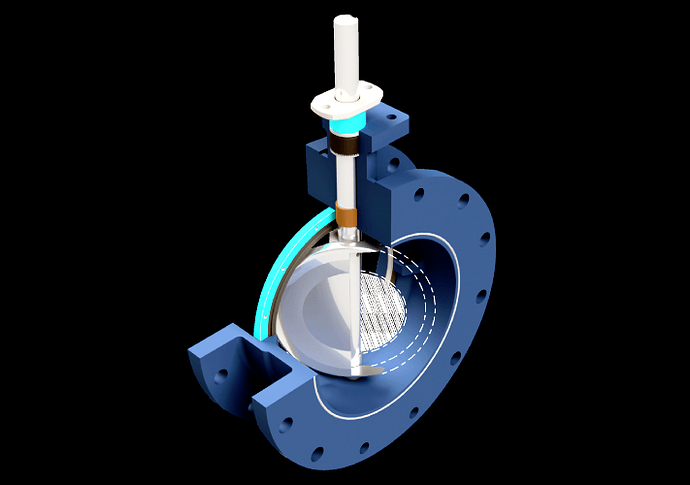 Problem Statement
The challenge we have for you is redesigning a DN250 Double Offset Butterfly Valve. We shall provide you a base design for the valve. Along with it, a technical document will be available. This document will contain all the ASME, API and, AWWA standard guidelines for valve design along with the complete procedure to participate in the competition.
Your objective will be to modify the valve design such that, the design will be able to achieve a maximum Cv value with a minimal disc weight.
Your designing process will have the following steps:
You shall modify the valve design considering all the design constraints and guidelines mentioned in the technical document. The modified valve design must abide by the design standards.

You will be given 60 simulation credits to perform multiple CFD simulations using simulationHub Valve CFD. Based on the CFD results generated, you can perform design iterations and re-simulate your designs until you reach your desired Cv value.

Once you have achieved your desired Cv, you will have to submit your project and your results will be evaluated.
Prizes and Awards
Winners
First Prize : 350* + cloud credits worth 3000
Second Prize : 200* + cloud credits worth 2000
Third Prize : 100* + cloud credits worth 1000
Consolation Prizes
Top 10 valve designs outside the Top 3 will receive special gifts and cloud credits worth $ 500.
Best Suggestions
Top 3 suggestions for simulationHub Valve CFD will receive exciting prizes.
Performance Certificate
All participants will receive a IVDC 2019 personalized digital performance certificate.