Liquid Level Gauge provides direct observation of liquid level in a tank / vessel. Rising and falling level of the liquid inside the tank / vessel can be observed through the glass assembled in the gauge.
General Instruments Consortium offers liquid level gauges to suit the process requirements. If you notify process conditions i.e. Service, Pressure and Temperature etc., General can provide optimum solution to accomplish your process requirements and economy.
Reflex Level Gauge
In this type of level gauge the liquid level is discriminated in the form of different brightness of the light on the reflex glasses.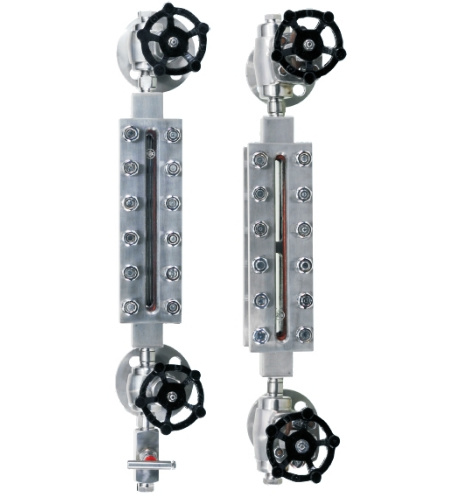 This is based on refractive indices of liquid and gas or vapor phase. In the liquid phase light is refracted to the glass and absorbed inside the gauge whereas in vapor phase light is reflected against the glass grooves and it appears very bright.
This type of gauge is mainly recommended for colourless liquid. The gauge consists of a body machined to have an internal chamber and one or more front windows only on one side of the gauge as shown in figure.
On each window a special high resistance plate reflex level glass is fitted with sealing joint and metal covers seized by 'U' Bolts and Nuts.