Capsule Sensing Pressure Gauges are used for low pressure measurement, in NON corrosive process mediums.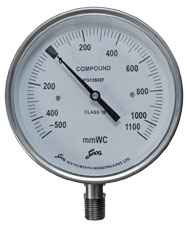 The sensing element is a capsule which is made up of dual SS316L laser welded diaphragms. Such type of gauges are preferred for their Accuracy in low pressure measurement.
The unique compact design is highly suitable for use in many Industrial applications where space can be a major constraint.