The DCV operates based on pneumatic actuation provided with a pressure range from 5-7 Kg/cm2. The DCV can be controlled by means of electronic components for example; BCU (Batch Controller Unit).
BCU provides a range of operation where the DCV can ramp up/down based on flow input in parameters as per operational requirement. For a 4" line it can control flow ranging from 60 kg/min to 1200 kg/min.
The BCU commands NO/NC SOVs for ramping up/down the flow. The SOVs posses plunger which can control pneumatic air in & out the DCVs piston and shaft. The air regulator is attached along with the pneumatic line to avoid pressure surges.
The DCV automatically reduces a higher inlet pressure to a constant lower outlet pressure. The valve consists of a main valve and pressure reducing control pilot. Slight changes in downstream pressure acts on topside of control diaphragm causing main Valve to counteract pressure changes and hold a constant outlet pressure.
The regulator will reduce the upstream pressure to a constant downstream pressure regardless of the change in flow rates/or inlet pressure.
Digital Control Valve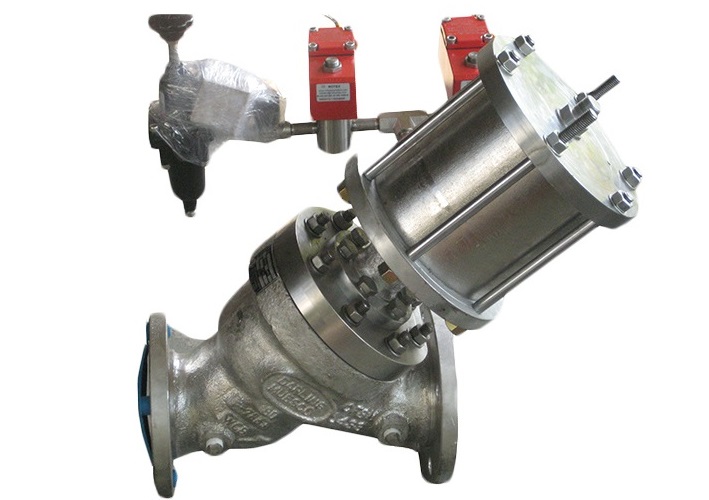 *Size: 50 NB to 150 NB
*Pressure Range: Up to 17.5 Kg/cm2
Case study:
The challenge to using various types of Corrosive and Hazardous Chemicals Unloading from the Ship and losing into the Tankers were given to us, where any chemical can pass thru any valves at a different time. The Project was Adani Port, Hazira, India.
The selection of the Body/ Trim material and mainly the Elastomer material was a BIG Challenge. Various International Companies who were invited for the job had regretted such possibilities.