What is a Butterfly Check Valve?
Butterfly valve is self actuated ,one way ,Non-return valve which allows flow in one direction only.Butterfly check valves have a same disk and seat arrangement similar as in butterfly control valves. Flow characteristics of butterfly check valves are similar to the flow characteristics of butterfly valves. Therefore butterfly check valve finds its best pair with butterfly control valve.
Construction and Working Principle of Butterfly Check Valve
The construction of butterfly check valve is such that sufficient space is provided for free movement of disk of butterfly check valve.Valve spacers are also not needed in this type of check valves. The butterfly check valve design is based on a flexible sealing member against the bore of the valve body at an angle of 45 deg. The short distance the disk must move from full open to full closed reduces the "slamming" action found in some other types of check valves.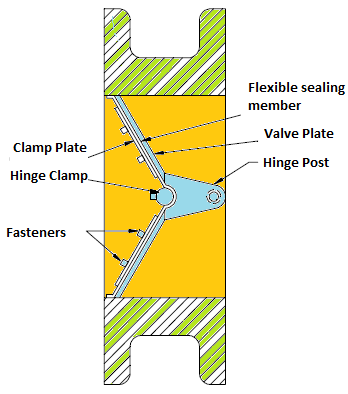 Because of same flow characteristics ,butterfly check valves have same applications as butterfly control valves. Owing to very quite operation Butterfly check valves have many applications in HVAC (heating ,ventilation and air conditioning ). Simplicity of design also permits their construction in large diameters - up to 72 inches.Seat liners of these valves are also available in many materials which allow HVAC valves manufacturers to provide valves at relatively cheaper rates.Instead of whole body ,seating liners are may be made in corrosion resistant materials .Otherwise we would have expensive valves as in valve constructions with alloys and titanium.