Orifice plate:
orifice plate construction
The orifice plate is a metal disk with a concentric hole as shown in the figure below. It is the simplest device used in almost all industrial application because of cheapness and availability in wide range of sizes.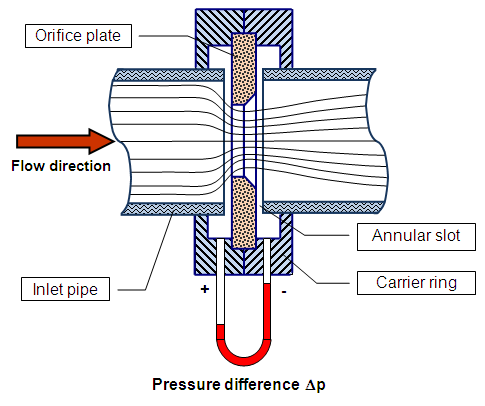 There are certain limitations of the orifice plate. For very high flow rates, the permanent pressure losses are very high. Over a period of time, the sharp edge of the hole wear out and the particles in the flowing fluid build up behind the hole reducing diameter. Hence discharge coefficient gradually changes.
This problem can be eliminated by using eccentric hole near the bottom of the pipe which sweeps out built-up particles behind the plate. Sometimes bubbles of vapour or gas tend to built up behind plate and obstruct the flow. This can be avoided by mounting the orifice plate in vertical run of the pipe.