Stoker Boiler Types
Stoker boiler types can be classified based on its type and based on the method of feeding fuel to the furnace. Stoker boiler types are generally classified as chain-gate or traveling-gate stoker boiler and spreader stoker boiler as explained below:
Chain-grate or traveling-grate stoker boiler
On the classification of this stoker boiler type, coal is fed to the end of steel grate that moves. When the grate moves along the furnace, coal is expected to be burned before it falls on the other end as ash. In this stoker boiler type, to adjust the baffles, air damper and grate need certain skill level; therefore, personnel in charge must be capable and qualified. In addition, the combustion of chain grate or traveling grate stoker boiler must be clean so as to produce a minimum amount of unburned carbon in ash.
Coal feed hopper is installed lengthwise along the bottom furnace where possibility feed coal can fall down along stoker grate. A coal grate is used to control the speed of fed coal into the furnace by controlling the thickness of fuel bed. The size of coal should be uniform because a large chunk will not burn out completely at the time of reaching the end of grate.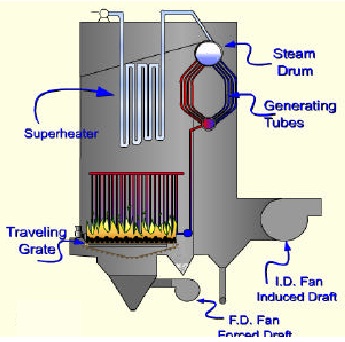 Figure 1: Chain Grate or Travelling Grate Stoker Boiler
(Source: www.cf.missouri.edu/energy/)
Spreader stoker boiler
Another type of stoker boiler is the spreader stoker boiler; this type utilizes combination of suspension combustion and also grates combustion. Spreader stoker feed coal continuously into the furnace above the combustion bed of coal. Larger particles of coal will fall into the grate while soft coal is burned in suspension, where it will be burned in the thin bed combustion of coal and the rapid combustion.
Combustion method in the spreader stoker type provides good flexibility related to the fluctuations of load, because of ignition will takes place rapidly if combustion rate increases. Furthermore, the spreader stoker boiler is favored when compared with other stoker boiler types in many industrial and power plant applications.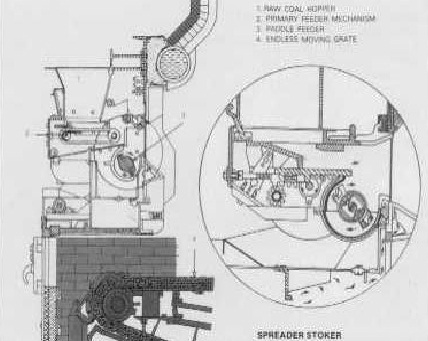 Figure 2: Spreader Stoker
(Source: Coal-Improved Techniques for Efficiency- Department of Coal India)