NPT (National Pipe Tapered) style pipe threads have been widely used for over 100 years. NPT is a U.S. standard for tapered threads used on pipes and fittings.
They are used to effectively seal pipes for fluid and gas transfer. The nominal pipe size can be identified by physically measuring the thread diameter, then subtracting 1/4″.
They are available in iron or brass for low-pressure applications and carbon steel and stainless steel for high-pressure.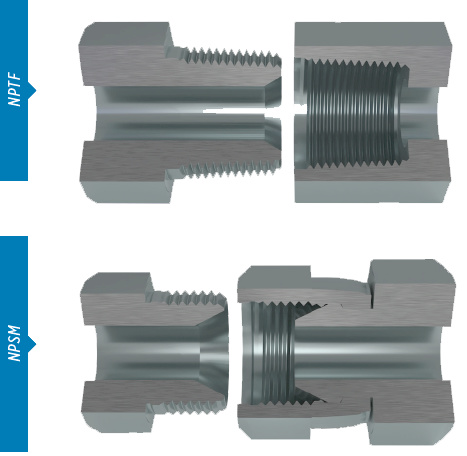 NPTF (National Pipe Tapered Fuel) style connections are widely used in fluid power systems.
They have a tapered thread by which a seal is made by deformation of the threads. NPTF Threads are measured at the thread diameter and subtracting 1/4-inch to establish the nominal pipe size.
NPSM (National Pipe Straight Mechanical) connections are also often found in fluid power systems. The female component incorporates a straight thread with an inverted 30° seat. The male component has a straight thread and a 30° internal chamfer.
A seal is made by compression of the 30° seat on the chamfer. This is considered a mechanical connection. If an NPTF male is properly chamfered it will also seal with an NPSM female connection.