What would be the reading of voltmeter as shown in below figure.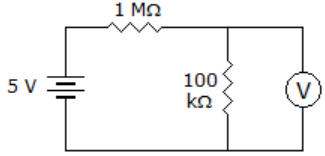 The voltmeter has a 0-1 V scale and is a 20000 Ω/V meter
A. 0.4545 V
B. 0.082 V
C. 0.82 V
D. 4.54 V
Show Answer

Answer: B
Share your understanding of this question with the correct explanation.