A main generator is connected to an infinite power grid with the following generator output parameters:
22 KV
60 Hertz
575 MW
100 MVAR (out)
Which one of the following contains a combination of manual adjustments to the main generator voltage regulator and speed control setpoints such that each adjustment will result in main generator operation at a power factor closer to 1.0?
(Assume the generator power factor remains less than 1.0.)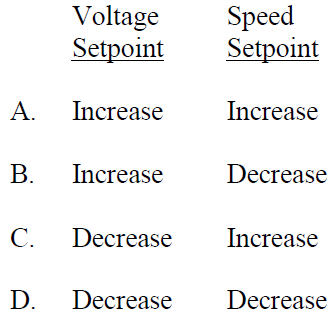 Show Answer

Answer: C
Share your understanding of this question with the correct explanation.