This is an Ethernet-based wired or wireless IoT device, which integrated with IoT data acquisition, processing, and publishing functions.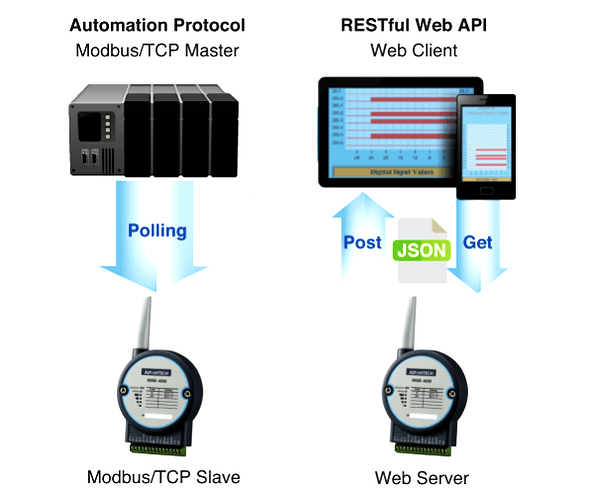 Except for various I/O type offering, this provides data pre-scaling, data logic, and data logger functions. These data can be access via mobile devices and be published to cloud with security in anytime and anywhere.
Representational State Transfer (REST) is a software architecture style widely used for creating scalable web services. With the advantage of scalability, simplicity and performance, it's already adopted in IoT applications. It is based on Hypertext Transfer Protocol (HTTP) and uses verbs, like GET, POST, PUT, DELETE, etc., for web browsers to get web pages or retrieve data with remote servers.
The data can be retrieved by internet media like HTML, XML, or JSON. REST s a uniform resource identifier (URI) to identify the data. Like using "http:// 10.0.0.1/analoginput/ch0" to identify the analog input value of channel 0. Then the web server may retrieve a JSON file analog input value of channel 0.
Download
UM-WISE-4000.PDF (6.8 MB)